The final application deadline is June 1. 
Degree Requirements
The Master of Health Care Innovation program is designed to be completed in 20 months. Students take one course at a time, with one week off between courses as a brief pause in the program's intense pace. Extended breaks occur over the winter holidays and summer. A flexible 3-year option is available for students who prefer to stretch the workload and financial commitment over more time.
Students are required to complete 11 course units (CU) to earn the degree. (At Penn, 1 course unit is usually converted to a 4-semester-hour course.) For the Master of Health Care Innovation, a 1.0 CU course is intentionally designed as 6 rigorous weeks of learning and interacting. Students typically spend 12–15 hours per week on coursework. Most activity is asynchronous, offering flexibility that is paired with predictable weekly deadlines to structure your time.
Starting in Fall 2022, the curriculum consists of:
This provides students the flexibility of taking more electives and to expand the curriculum to address emerging areas across health care. The previous curriculum featured 7 core courses, 2 electives, and 4 (0.5 CU) labs.
In addition, students are required to attend the MHCI Seminar each August during the program. In February (March for 2024) of their final year of the program, students will attend Innovation Weekend in person on Penn's campus in Philadelphia (public health measures allowing). Attendance at and participation in both Seminar and Innovation Weekend are required for the degree, even though neither confers course credit.
Program faculty draw upon expertise from across Penn, including:
Perelman School of Medicine
Wharton School
Penn Carey Law
School of Nursing
Stuart Weitzman School of Design
MHCI students may also participate in extracurricular opportunities, such as attending virtual talks or programs from the Leonard Davis Institute of Health Economics and Penn Health-Tech.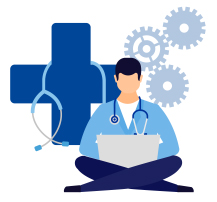 The Curriculum
Penn's MHCI program is committed to maintaining a leading, competitive position at the intersection of health care and online education as health care transforms, society shifts, and the program grows. To accomplish this we regularly conduct interviews with leaders from across health care to identify emerging trends, recent gaps, and expectations for MHCI alumni. We also listen to our students, alumni, and Curriculum Committee for input so we can design and deliver an exceptional learning experience with real-world impact.
The result is a revised curriculum, launching in Fall 2022. Key changes include:
Health Equity is becoming a required 1.0 CU course, as well as a topic addressed across the curriculum.
An additional elective slot provides greater flexibility for students to explore special topics, such as digital health and data.
Key topics--e.g. patient-centric care, behavioral health, telemedicine--are addressed in multiple courses across the curriculum.
Labs are extended to 1.0 CU each, allowing more time to address challenges and develop skills to pitch innovation.
Many courses will include a final deliverable to create an innovation portfolio to showcase your thinking, innovation, and leadership skills.
Innovation and Leadership Competencies
The MHCI curriculum is designed for students to develop competencies in innovation and leadership to advance their work and careers. Practice your strategic learning, analytical thinking, creativity and idea generation, complex problem-solving, and innovation skills. Hone your communication ability, persuasion, negotiation, networking, social influence, and leadership skills. You will develop these competencies through core and elective courses, labs, and co-curricular programming.
Core Courses
KEY: Course ~ Instructor(s) (Penn School)
*Indicates a course whose final assessment is designed to be part of your innovation portfolio.
Electives
Lab Courses
Addressing Challenges *
Pitching Innovation *
Course offerings and faculty are subject to change.
Guest Speakers
Courses include special lectures, presentations, and interviews with speakers from outside the program faculty to expose students to expert perspectives from across the University and beyond, from a multitude of industries.
The Schedule

Students who choose the extended 3-year track must meet the same degree requirements as the 20-month program. The first year's coursework is distributed across 2 years, and the final year's schedule remains the same. If you choose this program option, an advisor will help you identify the best schedule.

The Online Course Structure
When you take an online course in the Master of Health Care Innovation, you develop new knowledge, skills, and practices by:
Engaging with content and media—Brief, high-quality video lectures; interview cases; cutting-edge readings; and learning aids, many of them downloadable, are predictably structured in weekly modules for you to study on your own schedule.
Interacting with classmates, faculty, and the course team—During synchronous and asynchronous class time, you will synthesize knowledge, explore scenarios and cases, identify opportunities for innovation, and network with colleagues.
Applying your learning—Practice activities, ongoing projects, and presentations help you hone your ideas, identify stakeholders and decision makers, develop strategies for persuasion and negotiation, and strengthen your arguments in a safe, supportive space.
Technology Requirements
The MHCI program is designed for participation from either a desktop or laptop computer (PC or Mac). Content is also accessible on a mobile device. A headset with microphone is provided to students, upon request, for use during synchronous classes over video conferencing.
Computer requirements and supported browser information for Canvas, the learning management system for the Master of Health Care Innovation, may be found at the Canvas Help Center. Lecture videos are delivered over Panopto, which lists viewing requirements on its website.
If you have any questions about technology requirements, please contact the Department of Medical Ethics and Health Policy's Online Education help desk at psom-MEHPhelp@pennmedicine.upenn.edu.
MHCI Program COVID-19 Response
During the pandemic, the MHCI team has remained responsive to anticipated needs and changing realities, making course adjustments and accommodations for students' needs. Read on for more about the COVID-19 response.
Certificate Options
If you would like to sharpen some skills but are not able to commit to a degree program, consider curating a selection of 4 MHCI courses for a Graduate Certificate in Health Care Innovation tailored to your needs. (Graduate Certificate credit courses can fold into the MHCI degree at a later date.)
If you would like to sharpen your skills with a lighter workload, in less time, consider the Professional Development Certificate in Health Care Innovation. This is a standalone noncredit professional certificate.