Students are required to attend the annual MHCI Seminar. Through a series of presentations, workshops, and social events, Seminar develops connections among students, faculty, and alumni, and introduces external specialists to the MHCI network while exploring special topics.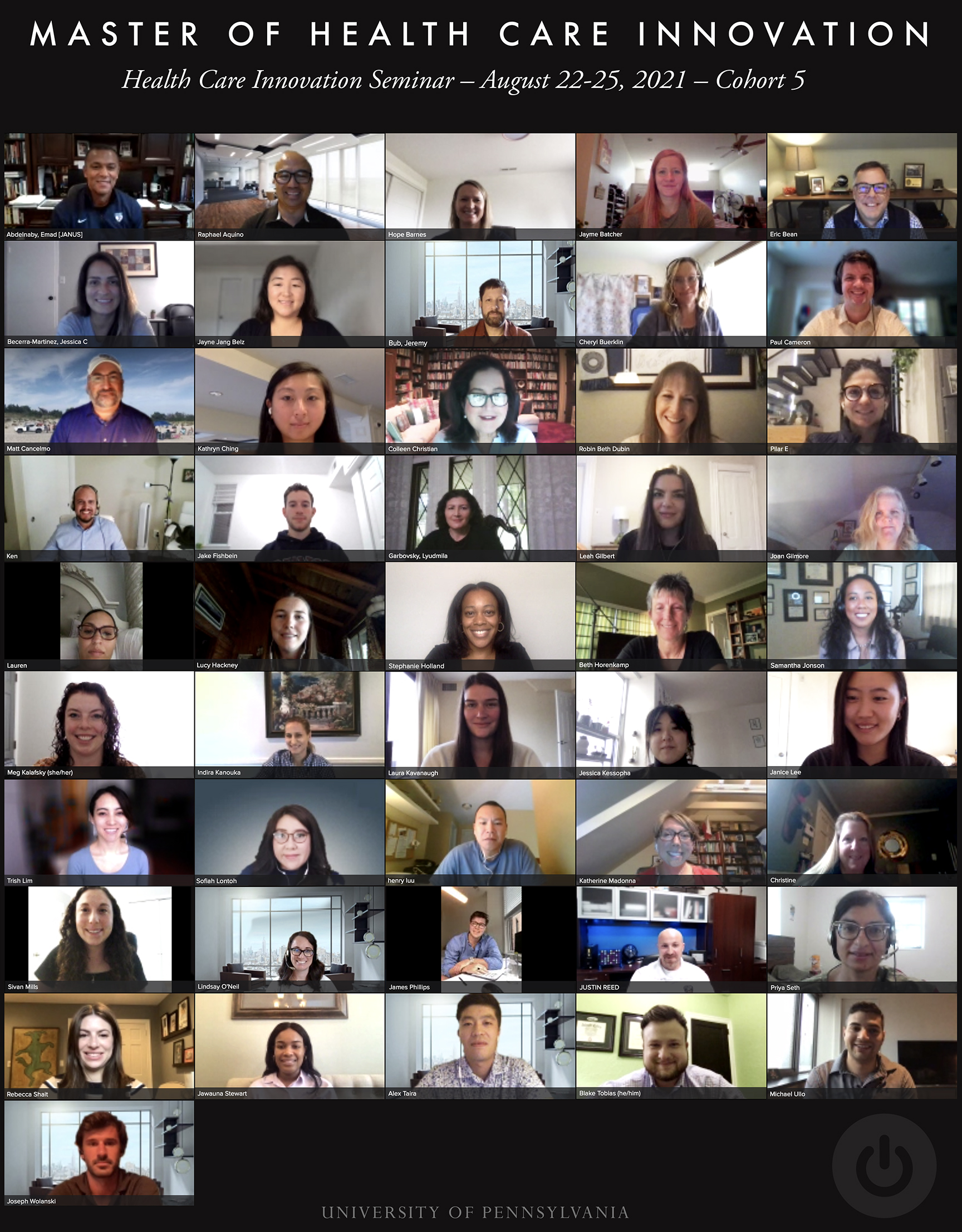 Build Your Network
During Seminar, convene with other professionals committed to changing health care and exchange ideas, share stories, gain and give advice, and begin to build the special connection to classmates that MHCI alumni consider to be a hallmark of the program.
Standard components include:
Program and classroom orientations
Panel discussions
Faculty presentations
Interactive workshops to develop professional skills
Social events
Networking activities

A theme informs each year's programming. Recent themes include:
Improving Access to Health Care (2019)
Innovating and Leading through Disruption (2020)
360° Health Care Innovation—Teaming Up to Address Food Insecurity (2021)
"The MHCI Seminar was a magical blending of intellectual, practical, and social that helped me get my bearings in a new environment and left me feeling unreasonably excited to dive into the program with an impressive group of fellow students and knowledgeable instructors," said Maria Thomas, Entrepreneur at Redesign Health and former Etsy CEO, MHCI Class of 2022.
2021 MHCI Seminar Highlights
During the 2021 MHCI Seminar nearly 100 students from across the U.S. and international locations met online to network and explore the program theme 360° Health Care Innovation. Voices from various sectors of health care joined to discuss the topic Teaming Up to Address Food Insecurity with the MHCI community. 
Seminar 2021 spanned four days, from Sunday, August 22 to Wednesday, August 25, with 14 hours of formal programming, most in the evenings. Highlights included:  
Keynote conversation between Zeke Emanuel and Dan Brillman, Co-Founder and CEO of Unite Us, followed by a thoughtful Q&A session with students
Panel discussions where thought leaders shared experiences about addressing food insecurity, whether through a collaborative partnership for immediate results or a voice in long-term transformative approaches

Navigating Food Insecurity Panel

Lisa Donnelly—Systems Technician, Valley Area Food Service, Sutter Health
Lauren Poor, MPH—Regional Program Manager, Healthy Food in Health Care, Health Care Without Harm
Kimberly Smith—Chief Growth Officer, Copia

Addressing Food Insecurity Panel (short video excerpt)

Kofi Essel, MD, MPH—Community pediatrician and Assistant Professor of Pediatrics, Children's National Health System and GWU School of Medicine and Health Sciences
Kathy Fisher, JD, MSW—Policy Director, Coalition Against Hunger; Philadelphia Food Policy Advisory Council 
Angela Odoms-Young, PhD—Associate Professor, Division of Nutritional Science, Cornell University

Small-group activities to develop a progress brief and short pitch for the Teaming Up Workshop designed and delivered for the MHCI by Kate Liebelt, Instructor with MHCl, Director and People Leader, Business Operations and Strategy, Pharmacovigilance and Patient Safety, AbbVie facilitated by MHCI alumni, instructors, and TAs
Feedback session in which faculty leaders Ezekiel J. Emanuel, MD, PhD; Steven Joffe, MD, MPH; and Jennifer S. Myers, MD, FHM, FACP shared their thoughts on top-voted progress briefs from the workshop
Alumni panel and Q&A session featuring four MHCI alumni with diverse career paths and backgrounds
Student-led virtual networking activities: discussions on passion topics and social events
MHCI Class of 2024 student Sofiah Lontoh shared, "The MHCI highly inspires me. The program allows me to listen to, exchange thoughts with, and learn from brilliant and passionate faculty, panel speakers, alumni, and MHCI colleagues—a great group of experienced people with diverse backgrounds. The discussions held have been very engaging. Being immersed in these discussions oftentimes makes me forget that there is an eleven-hour time difference with most of my colleagues."
Seminar Formats 
The 2022 Seminar will be held on campus. Lodging and conference activities are covered by the program. Transportation to and from Philadelphia, as well as other incidentals, are the responsibility of each student. Vaccination requirement: All University of Pennsylvania students, faculty, and staff are required to be vaccinated against COVID-19, including a booster shot if they will be attending events on campus. Vaccine appointments are available at Penn Medicine.
During the 2021 Seminar, educational and social sessions used the learning management system Canvas, web conferencing tool BlueJeans, and communications channel Slack. Together these systems formed an inviting virtual space to foster connections and provide support. For Seminar sessions, students can actively engage from either a desktop or laptop computer (PC or Mac) with a high-speed internet connection, or a mobile device. A webcam and headset with a microphone are recommended to get the most out of each activity.
Please note that students in the Master of Health Care Innovation are not eligible for an F-1 student visa. While there was no on-campus component for first-year students for the 2021-2022 academic year, due to public health concerns, students may be required to attend a Seminar on campus  or other sessions in subsequent years. If so, the program would communicate in advance to allow you sufficient time to arrange for a B-1 visitor visa. Penn's International Student and Scholar Services (ISSS) could assist you with obtaining the visa.