Students are required to attend the annual MHCI Seminar. Through a series of presentations, workshops, and social events, Seminar develops connections among students, faculty, and alumni, and introduces external specialists to the MHCI network while exploring special topics.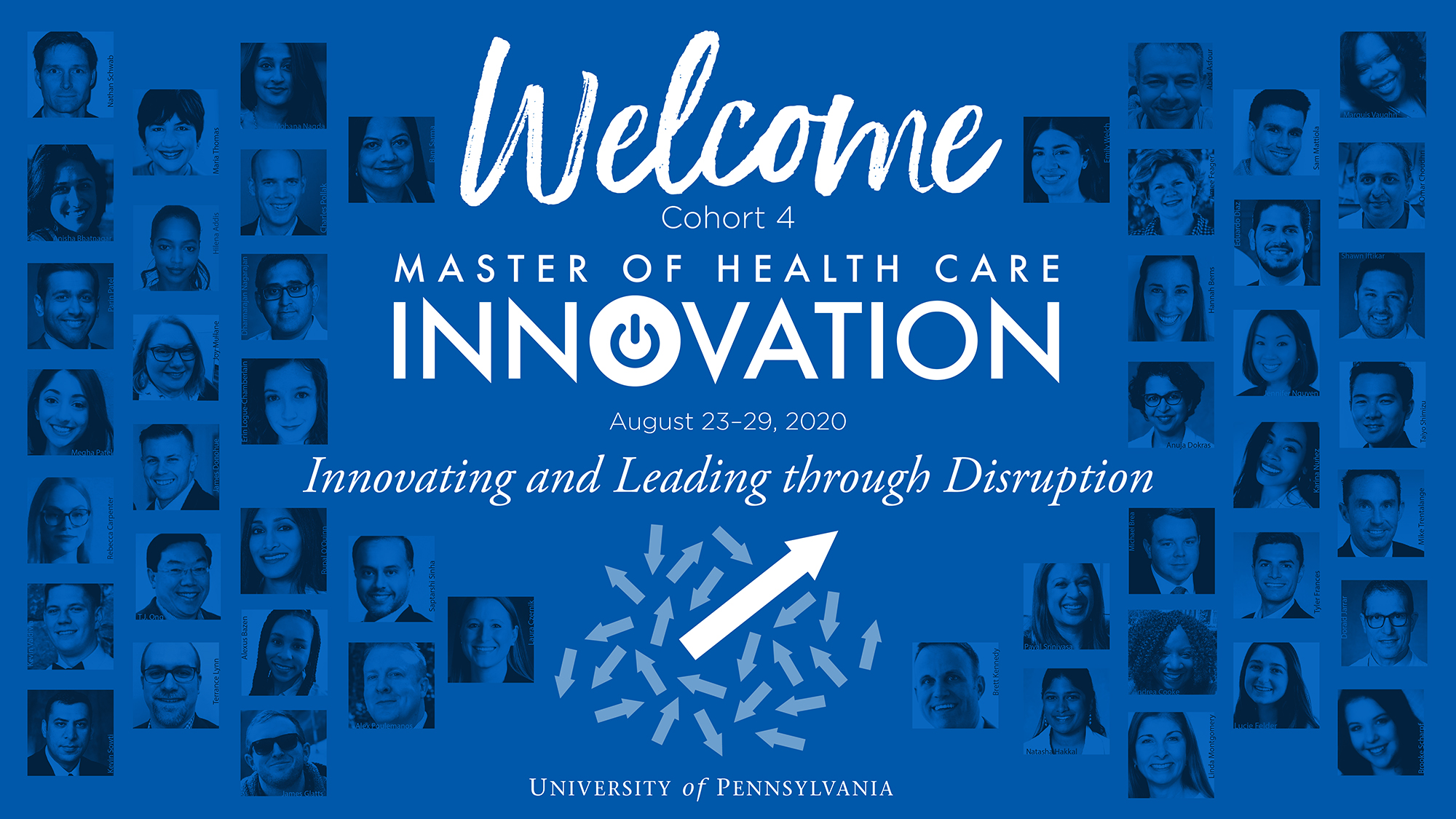 Build Your Network
During Seminar, convene with other professionals committed to changing health care and exchange ideas, share stories, gain and give advice, and begin to build the special connection to classmates that MHCI alumni consider to be a hallmark of the program.
Standard components include:
Program and classroom orientations
Panel discussions
Faculty presentations
Interactive workshops to develop professional skills
Social events
Networking activities

A theme informs each year's programming. Recent themes include:
Improving Access to Health Care (2019)
Innovating and Leading through Disruption (20200
"The MHCI Seminar was a magical blending of intellectual, practical, and social that helped me get my bearings in a new environment and left me feeling unreasonably excited to dive into the program with an impressive group of fellow students and knowledgeable instructors," said Maria Thomas, Entrepreneur at Redesign Health and former Etsy CEO, MHCI Class of 2022.
2020 MHCI Seminar Highlights
Due to the COVID-19 pandemic, the 2020 MHCI Seminar was held fully online. We hosted about 80 students from across the U.S. and international locations in an online environment combining the learning management system Canvas, web conferencing tool BlueJeans, and communications channel Slack. Together these systems formed an engaging virtual space to foster connections and provide support. 
Seminar 2020 spanned a full week, from Sunday, August 23 to Saturday, August 29, for a total of 24 hours of formal programming. Most sessions took place in the evenings. Highlights included:  
Panel discussions where thought leaders shared insights on innovating and leading through disruption, then engaged in lively Q&A with students 

Behavioral Economics panel:  

Alison M. Buttenheim, PhD, MBA, Associate Director, Center for Health Incentives and Behavioral Economics (CHIBE) 
Vivian S. Lee, MD, PhD, MBA, President, Health Platforms, Verily Life Sciences 
Christina A. Roberto, PhD, Presidential Associate Professor of Health Policy & Director, PEACH Lab 
Mark Smith, MD, MBA, Clinical Professor of Medicine, UCSF 
Moderator: Kevin G. Volpp, MD, PhD, Director, Center for Health Incentives and Behavioral Economics (CHIBE) and MHCI faculty member

Innovation panel: 

Brett Davis, Principal, ConvergHEALTH Leader, Deloitte 
Donna Finale, Head of Portfolio Innovation at UCB 
Rebekah E. Gee, MD, CEO, LSU Health Care Services Division 
Marion Leary, RN, MSN, MPH, FAHA, Director of Innovation, University of Pennsylvania School of Nursing 
Moderator: Ezekiel J. Emanuel, MD, PhD, Diane v.S. Levy & Robert M. Levy Professor and MHCI faculty member 

Operations panel: 

Matthew Adkins, MBA, Associate Vice President, Corporate Strategy at Humana 
Tine Hansen-Turton, JD, MPA, CEO, Woods 
Douglas Hughes, MBA, Senior VP & Chief Strategy Officer, Grand View Health 
Moderator: Amol S. Navathe, MD, PhD, Assistant Professor of Medicine and Health Policy and MHCI faculty member 

Leadership panel: 

Rinad Beidas, PhD, Associate Professor; Founding Director, Penn Implementation Science Center 
PJ Brennan, MD, Chief Medical Officer, Penn Medicine 
Shaden Marzouk, MD, MBA, President and CEO, CareMore and Aspire Healthcare 
Cindy Firkins Smith, MD, MHCI, CEO, Carris Health 
Moderator: Lee A. Fleisher, MD, Director and Chief Medical Officer, Center for Clinical Standards and Quality, CMS, and MHCI faculty member 

Policy panel: 

Rep. Dwight Evans, U.S. Congressman (PA-03) 
Justine Handelman,     Senior VP, Office of Policy and Representation, BCBSA 
Lauren S. Hughes, MD, MPH, MSc, FAAFP, State Policy Director, Farley Health Policy Center, University of Colorado 
Bruce Leff, MD, Professor of Medicine, Johns Hopkins University School of Medicine 
Moderator: Dan Gorenstein, Executive Producer & Co-host, Tradeoffs 

Small-group activities to develop a "Caregiving 2031 proposal and pitch, based on materials from Institute for the Future and facilitated by MHCI alumni, instructors, and TAs
A dynamic StandOut workshop on presentation skills including making more effective virtual presentations 
Q&A session in which students asked faculty leaders Ezekiel J. Emanuel, MD, PhD; Kevin Volpp, MD, PhD; and Steven Joffe, MD, MPH about the future of health care 
Live webinar on AI in health care from the Society for Health Care Innovation (founded by MHCI alumni) 
Virtual networking activities: dinners, museum visit, and student-led social events 
MHCI Class of 2022 student Mohana Nagda shared, "Seminar compelled us to start asking the harder questions pointing to the current gaps in healthcare which helped us to think critically on where we can focus our efforts for overall improvement."
Seminar Formats 
The first 3 MHCI Seminars (2017, 2018, and 2019) were held in person, in Philadelphia. When the Seminar is held on campus, lodging and conference activities are covered by the program. Transportation to and from Philadelphia, as well as other incidentals, are the responsibility of each student. 
The fourth Seminar (2020) was fully online. The format of future MHCI Seminars will take public health into consideration and be adapted to provide the best experience for students, whether in-person, online, or hybrid. 
For online Seminar sessions, students can actively engage from either a desktop or laptop computer (PC or Mac) with a high-speed internet connection, or a mobile device. A webcam and headset with a microphone are recommended to get the most out of each activity. 
Please note that students in the Master of Health Care Innovation are not eligible for an F-1 student visa. While there was no on-campus component for the 2020-2021 academic year, students may be required to attend a Seminar on campus in subsequent years. If so, the program would communicate in advance to allow you sufficient time to arrange for a B-1 visitor visa. Penn's International Student and Scholar Services (ISSS) could assist you with obtaining the visa.