Online Master of Health Care Innovation
The University of Pennsylvania offers an online master's degree in Health Care Innovation for those aspiring to improve health care. Designed by the Department of Medical Ethics and Health Policy, the Master of Health Care Innovation (MHCI) connects working health care professionals worldwide to lead change.
Improve Health Care Through Innovation
The need to improve health care is evident. The opportunities for change are myriad. Yet the path from today's health care to tomorrow's is not clear. Forging it requires knowledge and skills you likely did not figure out on the job, gain in medical school, or find in an MBA or MHA curriculum. How will you learn?
Through Penn's MHCI degree, you will develop innovation and leadership skills. The curriculum, seminar programming, and MHCI Speaker Series webinars will build your innovation muscles: strategic learning, analytical thinking, creativity and idea generation, complex problem-solving, and innovation. They also will sharpen your leadership tools: communication ability, persuasion, negotiation, networking, social influence, and leadership.
Connecting professionals across disciplines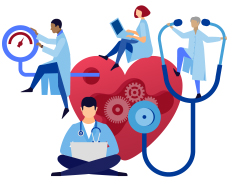 The MHCI brings together bright and ambitious change agents from across health care. They continue to work while a unique combination of renowned faculty grounds them in health policy, behavioral economics, operations management, innovation, and leadership.
Within courses, online discussions generate a network of problem-solvers comprising clinicians, entrepreneurs, researchers, executives, health IT specialists, and others. At a brief annual seminar session, 50-plus people come together as a thoughtful, inquisitive, and connected group inspired to improve health care.
20
Months to complete the program
13
Average years of work experience
Our online degree structure
Join a selective cohort in a 20-month program of online education, and network during two brief seminars. Should you need to spread out the workload and financial commitment over more time, a flexible 3-year option is also available.
Kick off each school year by attending a multi-day seminar. The MHCI Seminar supplements the online education experience and strengthens students' connections to each other, faculty, program staff, and the University of Pennsylvania. In February of their final year, students come to campus for Innovation Weekend to participate in activities focused on networking and career development, idea-sharing and feedback, and connecting with alumni.
Work remotely for the rest of the school year to complete your coursework online, which allows you to continue your career uninterrupted. Online courses are taken one at a time to allow you to focus on the topic at hand:
7 CORE COURSES: Build knowledge of foundational concepts in 6-week core courses.
4 LABS: Apply and practice skills in 4-week lab courses.
2 ELECTIVES: Explore additional topics according to your interests in 6-week elective courses.
Become Innovative in Thinking About Health Care
Through your MHCI coursework, you will build a foundation to improve processes of care, increase the value of health care services, shape patient and clinician behaviors, and contribute to the development of health policies.
Assignments will help you practice innovation methods and tools such as problem framing and rapid validation techniques alongside business and leadership skills such as pitching to stakeholders and proposal writing.
The program itself practices innovation, as evidenced by its adjustments and adaptations due to COVID-19. Read more about the MHCI program's COVID-19 response.
Renowned Faculty
Faculty in the MHCI degree are leaders in designing, researching, and evaluating ways to increase access to health care, reduce costs, change behaviors, and improve efficiencies. They bring frontline experience and teaching expertise from the Perelman School of Medicine, Penn Medicine Center for Health Care Innovation, Wharton, and Penn Law to the online classroom.
Join a Diverse Cohort of Health Care Professionals
Penn's MHCI program prepares students to be innovative thinkers and leaders within their current roles, to shape new positions for themselves, or, if they desire, to advance to different employers.
A nurse now helps her post-cardiac surgery population navigate a new Bundle Payment for Care Improvement initiative.
A director in the health insurance industry becomes Vice President of Growth for a comprehensive kidney care start-up company.
And within their current positions, MHCI students and alumni are applying frameworks to identify problems and design solutions.
Each MHCI cohort blends established leaders, "big fish in small ponds," and accomplished aspiring leaders. They may work in care delivery or management, academic medicine, rural health care, insurance, pharmaceuticals, medical device companies, start-up companies, consulting, or government agencies across the United States or abroad. Because of this diversity, MHCI students learn from each other, as well as from faculty.
Apply to the MHCI Degree Program
If you're interested in improving health care and have at least three years of experience, apply to join the next cohort of innovators by submitting the online application. You'll be asked to provide
a current résumé/CV,
personal statement,
contacts for 2 letters of recommendation, and
official transcripts from previous schools.
No standardized test scores are required. New students begin the program each August.
Visit the Admissions page for more details, including application insights.
Learn How to Define the Future of Health Care with the Online MHCI
Take the next step and start an application, or learn more about the curriculum, MHCI faculty, the admissions process, fees and tuition, or University of Pennsylvania policies.
Sign up for access to the Spring 2021 Virtual Information Session video featuring program details, a glimpse into a course, and current students reflecting on their experiences.
Contact our MHCI team
If you have questions, please contact Program Manager Katherine Ridella by email or telephone, 215-573-9378.
"I've gained a deeper understanding of where things in health care are going and an even better understanding of what I can do to innovate to compete and succeed in the future."
Ray RAVEN, CEO & managing partner of Orthopaedic Surgery Specialists, mHCI, class of 2019