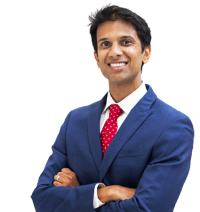 Faculty
Ravi B. Parikh, MD, MPP, FACP
Ravi B. Parikh, MD, MPP, FACP, is an Assistant Professor in the Department of Medical Ethics and Health Policy and Medicine at the University of Pennsylvania and Staff Physician at the Corporal Michael J. Crescenz VA Medical Center. He is also an Associate Director and Innovation Faculty member at the Penn Center for Cancer Care Innovation (PC3I) as well as the Director of the Program in Augmented and Artificial Intelligence at PC3I.
Dr. Parikh is a practicing oncologist with expertise in delivery system reform and informatics. His work has focused on two core areas: (1) the use of predictive analytics to improve routine patient care, particularly for those with advanced illnesses such as cancer, and (2) quality of life and survivorship care among individuals with cancer. He specializes in observational data analysis and pragmatic clinical trials.
Dr. Parikh's work on medical technology and advanced illness in leading academic journals including Science, The New England Journal of Medicine, The Journal of the American Medical Association, and the Journal of Clinical Oncology. He writes frequently for The Washington Post and other popular press venues, and he is a columnist at Medscape. He serves as Senior Clinical Advisor at the Coalition to Transform Advanced Care (C-TAC), was elected to the National Council of Resident/Fellow Members of the American College of Physicians, and has advised for-profit and non-profit organizations including AARP Services, Inc. and the Healthy Living Center of Excellence. Ravi worked on accountable care organization implementation as a Rappaport Fellow in the Massachusetts State House in 2010; his legislative recommendations earned commendation from the Massachusetts Speaker of the House and were incorporated into landmark payment reform legislation passed in 2012.
Dr. Parikh is a graduate of Harvard Medical School, Harvard College, and the John F. Kennedy School of Government. He completed a residency in internal medicine at Brigham and Women's Hospital and a fellowship in Hematology and Oncology at the University of Pennsylvania. He has received the Conquer Cancer Foundation Young Investigator Award, AMA Foundation Excellence in Medicine Leadership Award, and the American Geriatrics Society Edward Henderson Award, and was named a MedTech Boston 40 Under 40 Healthcare Innovator.