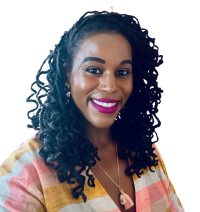 Faculty
Kimberly T. Arnold, PhD, MPH
Prof. Kimberly Arnold grew up on a small farm in Sumter, South Carolina and witnessed the effects of racism and unaddressed trauma on the mental and physical health of members of her family and community. Her desire to address health disparities and improve the holistic health of Black people led her to study biology, African American Studies, and health as an undergraduate student at the College of Charleston. After graduating, she completed a Master of Public Health at the Drexel University Dornsife School of Public Health. She then worked with churches in South Carolina as project coordinator for the Faith, Activity, and Nutrition Program at the University of South Carolina Prevention Research Center before returning to graduate school. She earned a PhD in Health Policy and Management with a certificate in Community-Based Public Health from the Johns Hopkins University Bloomberg School of Public Health. Afterward, she completed a National Institute of Mental Health T32 postdoctoral fellowship in implementation science, mental health services research, and academic-community partnerships at the University of Pennsylvania Center for Mental Health.
Prof. Arnold believes that everyone deserves the opportunity to be as healthy as possible. She is a health policy and mental health services researcher, implementation scientist, public health practitioner, and registered yoga teacher who specializes in advancing health equity and reducing physical and mental health disparities through community-engaged research, multisector collaboration, addressing inequities in social determinants of health, and implementing and evaluating evidence-based interventions in clinical and community settings. She is currently partnering with stakeholders—including church leaders, mental health providers, mental health advocacy organizations, and policymakers—to create comprehensive support for mental health in churches to prevent, manage, and treat mental illnesses and connect church members to mental health services outside of the church when needed. She is also training mental health clinicians in spiritually informed mental health care.
As an expert in health equity and community engagement, she co-directs the "Advancing Health Equity" course at Penn and co-authored a chapter entitled "Engaging Stakeholders" in the book, Practical Implementation Science: Moving Evidence into Action. Prof. Arnold recently founded Healthy Elements Wellness and Yoga, which is an organization focused on helping individuals and communities achieve optimal health through self-care. During her self-care time, she enjoys teaching and practicing yoga, strength training, spa activities, reading books, traveling, and spending time with family and friends.