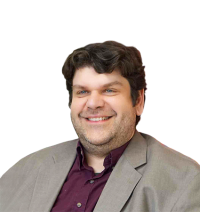 Faculty
George Demiris, PhD, FACMI
George Demiris, PhD, is a Penn Integrates Knowledge University Professor. He has been at the forefront of the intersection of informatics and nursing science, and his work has introduced new and innovative approaches to old problems in gerontology.
He is exploring innovative ways to utilize technology and support patients and their families in various settings including home and hospice care. He has conducted numerous federally funded studies and his work has been funded consistently over the years both by the National Institutes of Health (NIH) and the National Science Foundation (NSF). His expertise is also in designing and evaluating "smart home" solutions for aging, and in understanding the potential of wearable devices or digitally augmented residential settings to facilitate passive monitoring and support independence and quality of life for community dwelling older adults. His research provides evidence-based recommendations as to how to design systems that are easily adopted by older adults and integrated in their lives. He has examined the challenges of privacy and obtrusiveness in the context of technology use, and he has provided a comprehensive examination of technical, ethical, and practical challenges associated with the use of technology to support aging.
Prof. Demiris' research focuses on the use of information technology to support older adults and their family caregivers and explore innovative solutions to promote independent aging and patient and family engagement. He is a co-founder of the Hospice Caregiver Research Network, an initiative led by researchers from various academic disciplines committed to designing and testing interventions to support family caregivers of patients at the end of life. In this context he is currently conducting a clinical trial to examine the impact of a behavioral intervention for hospice caregivers informed by problem solving therapy and positive reappraisal, using various informatics tools. Another area of his research includes the use of behavioral sensing, "smart home" and "Internet of Things" technologies to promote independence for community dwelling older adults and their families. Such emerging technologies introduce challenges and opportunities in terms of engaging older adults in decision making, making sense of vast amounts of data and promoting effective data visualizations as well as addressing ethical considerations.
Prof. Demiris is committed to interdisciplinary educational and research collaborations and has extensive experience in curricular design and mentoring from his past roles as Director of a Biomedical and Health Informatics Training Program funded by the National Library of Medicine, and an Aging and Informatics Training Program, funded by the National Institute of Nursing Research. He actively collaborates with various units on campus including the Department of Computer and Information Science as well as industry partners.