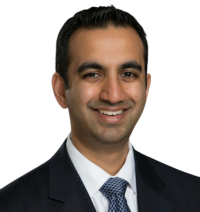 Faculty
Amol S. Navathe, MD, PhD
Amol Navathe, MD, PhD, is a physician and core investigator at the Philadelphia VA Medical Center. He is also an associate professor of Health Policy and Medicine and director of the Payment Insights Team at the University of Pennsylvania. In addition, he is vice chair of the Medicare Payment Advisory Commission (MedPAC), a non-partisan agency that advises the US Congress on Medicare policy. And co-founder of Embedded Healthcare, a health care technology company that uses behavioral economics tools to improve the value of clinical decisions.
Dr. Navathe is a leading scholar on payment model design and evaluation, particularly bundled payments. His scholarship is unique because of its bidirectional translation between scientific discovery and real-world practice, including a focus on: 
The impact of value-based care and payment models on health care value.
Financial and non-financial incentive design, including applications of behavioral economics, to drive clinician practice change.
A mix of pragmatic clinical trials and observational data analyses. 
His work has been published in Science, The New England Journal of Medicine, The Journal of the American Medical Association (JAMA), Health Affairs, other leading journals, The New York Times, and other news outlets.
Dr. Navathe completed medical school at the University of Pennsylvania Perelman School of Medicine at the University of Pennsylvania and internal medicine residency at the Brigham and Women's Hospital at Harvard Medical School. He obtained his PhD in Health Care Management and Economics from The Wharton School.