Course Description
What does effective health care leadership require? What changes during a crisis? The Wharton School's Mike Useem brings leadership insight to health care as he introduces essential qualities and practices of leadership via brief lecture videos. This course includes guest interviews with Penn Medicine leaders Regina S. Cunningham, PhD, RN, the CEO of the Hospital of the University of Pennsylvania, and Dr. John Kelly, professor of orthopaedic surgery and practicing surgeon. You will discover and explore through discussions with other professionals and course exercises how you might create organizational direction, set strategy, address demotivation and inequity, and achieve goals.
Specific course topics include:
communication and decision making
leading through crisis
designing effective reward systems to motivate individuals and teams
building a high-performance organization to deliver high-quality patient care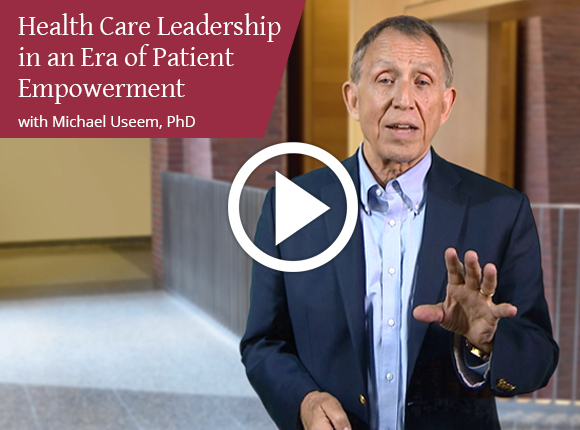 Course Dates: April 19–May 16, 2022
Estimated Hours/Week: 6 to 8
What You Will Learn and Do
This course is designed to help you address questions such as:
What qualities do exemplary leaders share and how do they relate to health care?
How do I build and strengthen teams?
What types of reward systems motivate individuals and teams?
How do I lead through crisis?
How can my organization nurture high performance?
You will also create a personalized leadership schema and begin applying your learning in your work and community.
Who Takes This Course
Current leaders in hospitals, health centers, medical practices, agencies, and other groups who seek the skills for leading organizational development and change. Sharpen your leadership thinking when you apply course concepts within your professional life.
Managers and individuals who aspire to contribute in a leadership capacity, either in their current role or future positions. Synthesize lessons from cases as you develop your own leadership tools.
Not ready to enroll? Sign up below to receive a special reminder a week before the course starts.
Meet the Faculty
Michael Useem, PhD
Michael Useem, PhD, is a professor of management and director of the Center for Leadership and Change Management and faculty director of the McNulty Leadership Program at the Wharton School, University of Pennsylvania. His university teaching includes MBA and executive-MBA courses on management and leadership; programs on leadership and governance for managers in the United States, Asia, Europe, and Latin America. He works on leadership development with many companies and organizations in the private, public, and non-profit sectors.
Prof. Useem is the author of The Leader's Checklist, The Leadership Moment, Executive Defense, Investor Capitalism, Leading Up, and The Go Point. He is also co-author and co-editor of Learning from Catastrophes; co-author of The India Way, Leadership Dispatches, Boards That Lead, and The Strategic Leader's Roadmap; and co-author of Fortune Makers: The Leaders Creating China's Great Global Companies, Go Long: Why Long-Term Thinking Is Your Best Short-Term Strategy (2018), and Mastering Catastrophic Risk: How Companies Are Coping with Disruption (2018). His newest book, The Edge: How ten CEOs learned to lead — and the lessons for us all (2021), was published by Wharton School Press. Prof. Useem also co-anchors a weekly program "Leadership in Action" on SiriusXM Radio Channel 132, Business Radio Powered by Wharton.
Read More