Course Description
How do people's actions and biases influence their health behaviors? And how can we influence their choices? Explore the answers with Kevin Volpp, a leading figure in the study and application of behavioral economics in health care. His brief lecture videos and your discussions with classmates will prompt you to consider how you can nudge patients, providers, and others to increase treatment adherence, reduce costs, and shape wellness behaviors.
Specific course topics include:
how the structure of choices influences decisions that people make
the design of incentive programs and how behavioral economics can "supercharge" them
ethical and practical considerations when a "nudge" becomes a "shove"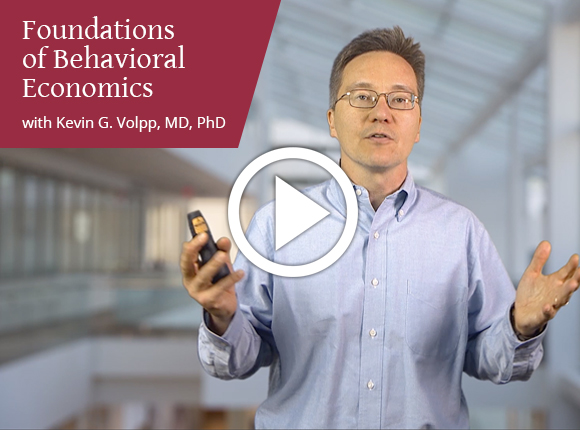 Available Course Dates: September 6–October 3, 2022
Estimated Hours/Week: 6 to 8
What You Will Learn and Do
This course is designed to help you address questions such as:
What factors contribute to the way people behave—and do they make rational decisions?
What behaviors should we consider when designing wellness incentives and health care programs?
How can I improve outcomes for my clients using behavioral economics concepts?
When does a "nudge" devolve into a "shove"?
Who Takes This Course
Individual clinicians, care teams, and administrators who want to stimulate behavioral change through evidence-based practices. Learn about the structures that shape your own decisions, then apply the research to your work.
Payers, digital health teams, entrepreneurs, and researchers who recognize the need to approach health care and wellness through psychology. Draw upon behavioral economics concepts from the course when you design incentives and tools.
Note: You do not need a background in economics to take this project-oriented course.
Not ready to enroll? Sign up below to receive a special reminder a week before the course starts.
Meet the Faculty
Kevin G. Volpp, MD, PhD
Kevin Volpp, MD, PhD, is the founding director of the Center for Health Incentives and Behavioral Economics (CHIBE) and the Mark V. Pauly President's Distinguished Professor of Medicine and Medical Ethics and Policy (MEHP) at the Perelman School of Medicine and Health Care Management at The Wharton School. He is also the division chief for Health Policy for MEHP and a co-director of the Penn Clinical and Translational Science Award initiative.
Dr. Volpp's work focuses on developing and testing innovative ways of applying insights from behavioral economics in improving patient health behavior and affecting provider performance. He has done work with a variety of employers, insurers, health systems, and consumer companies in testing the effectiveness of different behavioral economic strategies in addressing tobacco dependence, obesity, and medication non-adherence. Dr. Volpp has published more than 300 papers. Dr. Volpp has published more than 300 papers and has been recognized by a number of awards including the Matilda White Riley Award for career achievement by the Office of Social and Behavioral Science at NIH, the Association for Clinical and Translational Science Distinguished Investigator Award for Career Achievement and Contribution to Clinical and Translational Science, the John Eisenberg Award from the Society of General Internal Medicine, the British Medical Journal Group Award for Translating Research into Practice, and multiple "best paper of the year" awards from different societies. 
Dr. Volpp is an elected member of the American Society of Clinical Investigation (ASCI), the Association of American Physicians (AAP), and the National Academy of Medicine (formerly the Institute of Medicine) of the National Academy of Sciences (NAS).
Read More