Course Description
How do people's actions and biases influence their health behaviors? And how can we influence their choices? Explore the answers with Kevin Volpp, a leading figure in the study and application of behavioral economics in health care. His brief lecture videos and your discussions with classmates will prompt you to consider how you can nudge patients, providers, and others to increase treatment adherence, reduce costs, and shape wellness behaviors.
Specific course topics include:
how the structure of choices influences decisions that people make
the design of incentive programs and how behavioral economics can "supercharge" them
ethical and practical considerations when a "nudge" becomes a "shove"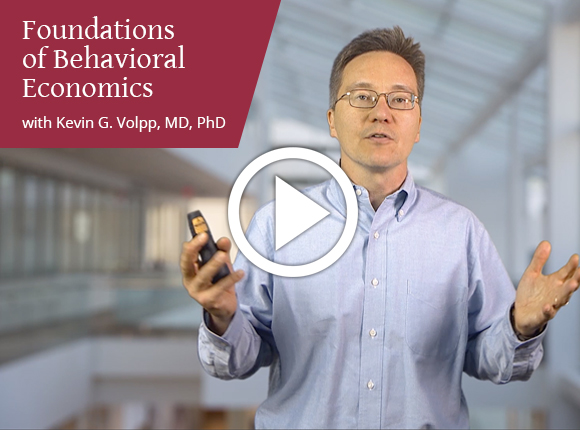 Available Course Dates: February 2–March 1, 2021
Estimated Hours/Week: 6 to 8
What You Will Learn and Do
This course is designed to help you address questions such as:
What factors contribute to the way people behave—and do they make rational decisions?
What behaviors should we consider when designing wellness incentives and health care programs?
How can I improve outcomes for my clients using behavioral economics concepts?
When does a "nudge" devolve into a "shove"?
Who Takes This Course
Individual clinicians, care teams, and administrators who want to stimulate behavioral change through evidence-based practices. Learn about the structures that shape your own decisions, then apply the research to your work.
Payers, digital health teams, entrepreneurs, and researchers who recognize the need to approach health care and wellness through psychology. Draw upon behavioral economics concepts from the course when you design incentives and tools.
Note: You do not need a background in economics to take this project-oriented course.
Not ready to enroll? Sign up below to receive a special reminder a week before the course starts.
Meet the Faculty
Kevin G. Volpp, MD, PhD
Dr. Kevin Volpp is the founding Director of the Center for Health Incentives and Behavioral Economics at the Leonard Davis Institute of Health Economics (LDI CHIBE), Director of the NIH-funded Penn CMU Roybal P30 Center in Behavioral Economics and Health and the Penn CDC Prevention Research Center, Vice Chairman for Health Policy for the Department of Medical Ethics and Policy, and a Founders President's Distinguished Professor at the Perelman School of Medicine at the University of Pennsylvania and Professor of Health Care Management at the Wharton School. He is a board certified practicing physician at the Philadelphia VA Medical Center. Dr. Volpp has received numerous awards for his work, including career achievement awards from the US National Institutes of Health and the Association of Clinical and Translational Science, the John Thompson Prize from the Association of University Programs in Health Administration; the Presidential Early Career Award for Scientists and Engineers (PECASE), the Alice S. Hersh Award from AcademyHealth; and multiple "best paper of the year" awards from various societies, including Academy Health, the Society of General Internal Medicine, and the Association for Consumer Research. Dr. Volpp is an elected member of the American Society of Clinical Investigation (ASCI), the Association of American Physicians (AAP), and the National Academy of Medicine (formerly the Institute of Medicine) of the National Academy of Sciences (IOM). He has also served as an advisor to many health plans and employers, including CVS Caremark, Weight Watchers, Ascension Health, and Mckinsey. He is a principal of the behavioral economic consulting firm VALHealth, serves on the advisory board of the World Economic Forum Global Advisory Council on Behavior Change, is a Contributing Writer for the JAMA Editorial Board, and serves on the Editorial Board of Health Care: Delivery Science and Innovation.
Dr. Volpp's work focuses on developing and testing innovative ways of applying insights from behavioral economics in improving patient health behavior and affecting provider performance. He has done work with a variety of employers, insurers, health systems, and consumer companies in testing the effectiveness of different behavioral economic strategies in addressing tobacco dependence, obesity, and medication non-adherence. He has competitively been awarded more than $60 million to lead or co-lead studies funded by the National Institutes of Aging as well as the National Heart Lung, Blood Institute; the National Cancer Institute; the National Institute of Diabetes and Digestive and Kidney Disorders; the Center for Medicare and Medicaid Innovation; the CDC; VA Health Services Research and Development; the US Department of Agriculture; Robert Wood Johnson Foundation; the Hewlett Foundation; the Commonwealth Foundation; the Aetna Foundation; Mckinsey; CVS Caremark; Horizon Blue Cross Blue Shield; Hawaii Medical Services Association; Merck; Humana; Aramark; Advocate Health System; and Discovery (South Africa). His research has led to national programs on financial incentives and smoking cessation for 150,000+ GE employees in the U.S., 200,000+ CVS employees in the U.S., and numerous other widely implemented programs such as a prescription refill synchronization program for Humana members, a simple health insurance plan ("Humana Simplicity"), and an approach to increase medication refills using enhanced active choice among CVS members.
Dr. Volpp is inspired to work in health delivery innovation because of the enormous potential for us to do better in improving health than we currently do without increasing health spending. Currently our system is configured around treatment of acute illness; through the use of technology, behavior change strategies, and shifts in health financing towards value, enormous progress is possible in significantly reducing morbidity and mortality from common diseases such as cardiovascular disease and cancer in which health behaviors play a significant role.
Read More