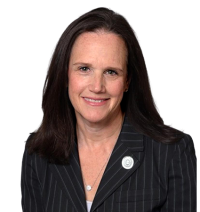 Faculty
Jill M. Baren, MD, MS, MBA
Jill M. Baren, MD, MS, MBA serves as provost and vice president of Academic Affairs at the University of the Sciences and is a tenured professor of Biological Sciences and Humanities in the Misher College of Arts and Sciences. She previously served as faculty leadership development fellow in the Office of the Provost at the University of Pennsylvania and as an American College of Education Fellow in the Office of the President at Villanova University. Dr. Baren is a national leader in academic medicine. She is board certified in Emergency Medicine and Pediatric Emergency Medicine and has held prior faculty positions at the University of California at Los Angeles, Yale University, and the University of Pennsylvania. At Penn Medicine, Dr. Baren served as the first woman chair of Emergency Medicine, chief of Emergency Services for the Health System, and chair of the Human Research Advisory Committee in the Office of the Vice Provost for Research. She is also a graduate of the Executive Leadership in Academic Medicine (ELAM) Program at Drexel University College of Medicine. 
Dr. Baren is the immediate past president of the American Board of Emergency Medicine, serving 40,000 practicing emergency physicians and trainees. She has lectured nationally and internationally on academic leadership and mentorship. She has published over 150 peer-reviewed articles, editorials and book chapters, and has edited several books including her own textbook, Baren's Pediatric Emergency Medicine. Her research focuses on ethics and informed consent within emergency clinical trials, and it has received funding from the National Institute of Neurological Disorders and Stroke, the National Institute of Child Health and Human Development, the National Heart, Lung, and Blood Institute, and the Robert Wood Johnson Foundation. Dr. Baren has served as a consultant to the NIH, the FDA and multiple national research networks on informed consent regulations in clinical trials of life-threatening conditions. 
Dr. Baren attended Brown University where she received a BS degree in Biochemistry. She received her MD degree, summa cum laude, from the University of Pittsburgh School of Medicine and is a member of the Alpha Omega Alpha National Medical Honor Society. She holds an MS in Bioethics from the University of Pennsylvania and an executive MBA degree from the Heller School of Management and Social Policy at Brandeis University, where she was inducted into the Beta Gamma Sigma National Business School Honor Society.