Course Description
What makes a transformation effort succeed—or fail? As health care systems struggle with problems of quality, cost, and access, we look to successful cases in improving care delivery. Through brief lecture and interview videos with leaders in the field, health policy expert Zeke Emanuel introduces transformative practices. Areas include open access scheduling, care coordination and standardization, performance measurement and feedback, the expansion of palliative care, community health worker programs, and the integration of behavioral care. Learn how to contribute to the transformation of health care in your workplace.
Specific course topics include:
the principles of health care transformation
scheduling and appointment management
transforming electronic health records
care delivery for complex patient cases
behavioral health integration and technology
Course guests:
Sachin Jain, MD, President and Chief Executive Officer of SCAN Group and Health Plan
Shreya Kangovi, MD, MS, Founding Executive Director of Penn Center for Community Health Workers
Rachel Klinedinst DNP, CRNP, ACHPN, Palliative Care Nurse Practitioner and Co-Director of the Inpatient Palliative Care Service at the Hospital of the University of Pennsylvania
Bernadatte C. Loftus, MD, Associate Executive Director, Mid-Atlantic States for Kaiser Permanente Medical Group
Mike Nagoshi, MD, of Central Medical Clinic, Honolulu, Hawaii
Edmondo Robinson, MD, MBA, FACP, Senior Vice President, Chief Digital Innovation Officer at Moffitt Cancer Center
Simeon Schwartz, MD, Chairman and CEO of WestMed Medical Group
John Sprandio, MD, specializes in hematology and oncology
David Wennberg, MD, MPH, CEO at Quartet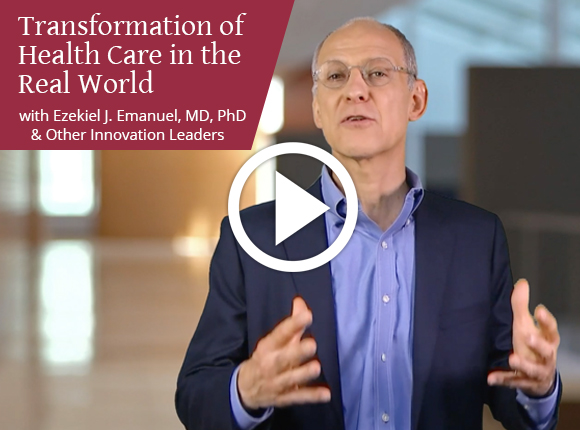 Next Available Course Dates: October 13–November 9, 2020
Estimated Hours/Week: 8
What You Will Learn and Do
This course is designed to help you address questions such as:
What best practices exist for transforming health care delivery?
How do you determine whether a health care transformation initiative is successful—and what do you do when it's not?
What transformational changes may be feasible in my professional context?
Who Takes This Course and Why
Technology specialists, data analysts, and entrepreneurs looking for insights into practices that can transform health care delivery. Gain perspective by studying with clinicians, administrators, and other professionals from across the industry.
Health care leaders and clinicians in physical and behavioral health, community health, and palliative care who want to learn and apply transformative practices for their patients. Prepare to initiate transformation within your own professional setting.
Not ready to enroll? Sign up below to receive a special reminder a week before the course starts.
Meet the Faculty
Ezekiel J. Emanuel, MD, PhD
Ezekiel J. Emanuel is the Diane v.S. Levy and Robert M. Levy University Professor, Vice Provost for Global Initiatives, and Chair of the Department of Medical Ethics and Health Policy at the University of Pennsylvania. He was the founding chair of the Department of Bioethics at the National Institutes of Health until August 2011. He served as a Special Advisor on Health Policy to the Director of the Office of Management and Budget and National Economic Council during the Obama administration. He is also a breast oncologist.
Dr. Emanuel received his MD from Harvard Medical School and his PhD in political philosophy from Harvard University and has published widely on health care reform, research ethics, and end-of-life care. His book Reinventing American Health Care examines the history of the U.S. health care system, the Affordable Care Act, and health care predictions for the future. Its sequel, Prescription for the Future, was released in June 2017. Dr. Emanuel also serves as a Venture Partner at Oak HC/FT in addition to serving as contributor for the New York Times and Fox News.
He began teaching online with a massive open online course on Coursera in 2013 and has since shaped his experiences and research into brief video lectures on medical ethics and health policy issues for continuing education, professional development, and academic learners.
Read More