Course Description
What makes a transformation effort succeed—or fail? As health care systems struggle with problems of quality, cost, and access, we look to successful cases in improving care delivery. Through brief lecture and interview videos with leaders in the field, health policy expert Zeke Emanuel introduces transformative practices. Areas include open-access scheduling, care coordination, community health worker programs, and performance measurement and feedback with co-instructor Jennifer S. Myers, MD, and the integration of behavioral care with physical health care. Learn about these topics and contribute to the transformation of health care delivery in your workplace.
Specific course topics include:
the principles of health care transformation
scheduling and appointment management
transforming electronic health records
transformation in care coordination and community health
quality improvement methods and useful tools
implementing transformational practices
Course guests:
Sachin Jain, MD, President and Chief Executive Officer of SCAN Group and Health Plan
Shreya Kangovi, MD, MS, Founding Executive Director of Penn Center for Community Health Workers
Bernadatte C. Loftus, MD, former Associate Executive Director, Mid-Atlantic States for Kaiser Permanente Medical Group
Edmondo Robinson, MD, MBA, FACP, Senior Vice President, Chief Digital Innovation Officer at Moffitt Cancer Center
John Sprandio, MD, specializes in hematology and oncology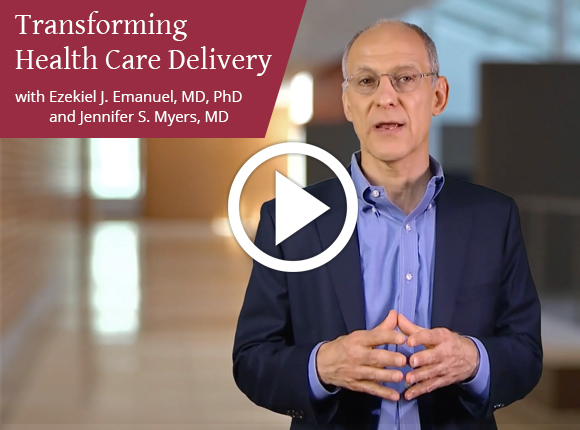 Next Available Course Dates: April 18–May 15, 2023
Estimated Hours/Week: 6 to 8
What You Will Learn and Do
This course is designed to help you address questions such as:
What best practices exist for transforming health care delivery?
How do you determine whether a health care transformation initiative is successful—and what do you do when it's not?
What transformational changes may be feasible in my professional context?
Who Takes This Course and Why
Technology specialists, data analysts, and entrepreneurs looking for insights into practices that can transform health care delivery. Gain perspective by studying with clinicians, administrators, and other professionals from across the industry.
Health care leaders, clinicians, and administrators in health care delivery who want to learn and apply transformative practices within their organization and for their patients. Prepare to initiate transformation within your own professional setting.
Not ready to enroll? Sign up below to receive a special reminder a week before the course starts.
Meet the Faculty
Ezekiel J. Emanuel, MD, PhD
Ezekiel J. Emanuel, MD, PhD, is the Vice Provost for Global Initiatives and the Diane v.S. Levy and Robert M. Levy University Professor at the University of Pennsylvania.
Dr. Emanuel is an oncologist and world leader in health policy and bioethics. He is a special advisor to the Director General of the World Health Organization, Senior Fellow at the Center for American Progress, and member of the Council on Foreign Relations. He was the founding chair of the Department of Bioethics at the National Institutes of Health and held that position until August of 2011. From 2009 to 2011, he served as a special advisor on health policy to the director of the Office of Management and Budget and National Economic Council. In this role, he was instrumental in drafting the Affordable Care Act (ACA). Emanuel also served on the Biden-Harris Transition Covid Advisory Board.
Dr. Emanuel is the most widely cited bioethicist in history. He has over 350 publications and has authored or edited 15 books. His recent books include the books Which Country Has the World's Best Health Care (2020), Prescription for the Future (2017), Reinventing American Health Care: How the Affordable Care Act Will Improve our Terribly Complex, Blatantly Unjust, Outrageously Expensive, Grossly Inefficient, Error Prone System (2014) and Brothers Emanuel (2013).
Dr. Emanuel regularly contributes to The New York Times, The Washington Post, The Wall Street Journal, The Atlantic, and often appears on BBC, NPR, CNN, MSNBC and other media outlets.
He has received numerous awards including election to the Institute of Medicine (IOM) of the National Academy of Science, the American Academy of Arts and Sciences, the Association of American Physicians, and the Royal College of Medicine (UK). He received—but refused—a Fulbright Scholarship.
He has been named a Dan David Prize Laureate in Bioethics and is a recipient of the AMA-Burroughs Wellcome Leadership Award, the Public Service Award from the American Society of Clinical Oncology, Lifetime Achievement Award from the American Society of Bioethics and Humanities, the Robert Wood Johnson Foundation David E. Rogers Award, President's Medal for Social Justice Roosevelt University, and the John Mendelsohn Award from the MD Anderson Cancer Center.
Dr. Emanuel has received honorary degrees from Icahn School of Medicine at Mount Sinai, Union Graduate College, the Medical College of Wisconsin, and Macalester College. Dr. Emanuel is a graduate of Amherst College. He holds a MSc from Oxford University in Biochemistry and received his MD from Harvard Medical School and his PhD in political philosophy from Harvard University.
Read More
Jennifer S. Myers, MD, FHM, FACP
Jennifer S. Myers, MD, FHM, FACP, is  Professor of Clinical Medicine and the director of the Center for Healthcare Improvement and Patient Safety (CHIPS) at the Perelman School of Medicine, University of Pennsylvania. This center serves as the nexus for education in quality and safety at Penn and houses several educational programs and career training pathways for residents, fellows, and faculty, including a masters program in Healthcare Quality and Safety.
She is the founding and ongoing director of the Quality and Safety Educators Academy,©  the first national faculty development program in this field which is now in its 11th year and has trained over 700 faculty from across the United States. Dr. Myers is an associate editor for BMJ Quality & Safety, the leading international journal in the field, and has published over 70 peer-reviewed articles in the area of health care quality, patient safety, and medical education. Her work to integrate quality and safety into the fabric of academic medical centers has been funded or recognized by the Josiah Macy Jr. Foundation, the Accreditation Council for Graduate Medical Education, the AAMC, the Measey Foundation, and the Gordon and Betty Moore Foundation in conjunction with the Society to Improve Diagnosis in Medicine.
She received her medical degree from Hahnemann University in Philadelphia, PA and completed her internal medicine training at the Johns Hopkins Hospital in Baltimore, MD.  
Read More