Course Description
There has been no shortage of recommendations from executives, consultants, and self-declared experts on how to improve health care. But the success rate for implementation has been low, and health care systems still struggle with problems of quality, cost, and access—not to mention high employee turnover and provider burnout. However, across the country, there have been pockets of success in improving care delivery. A number of best practices show promise, including open access scheduling, care coordination and standardization, performance measurement and feedback, the expansion of palliative care, community health worker programs, and the integration of behavioral care.
Through lectures, case studies presented by multiple expert faculty, and interviews with leaders in the field, you will examine these transformative practices, and the leadership techniques that have led to their success. You will identify organizations that are primed for transformation, potential directions for leading transformation, and ways to direct change within your organization.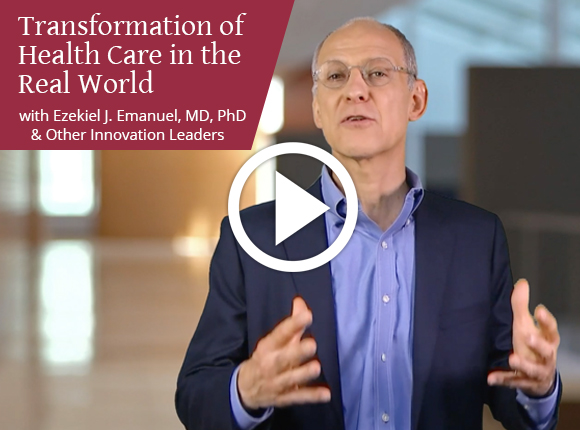 Next Available Course Dates: Next Dates TBD
Estimated Hours/Week: 8
Learning Objectives
Learners who successfully complete this course will be able to do the following:
Summarize important transformational practices and essential elements of transformation in a health care setting.
Analyze real-world cases of transformative practices in a variety of areas of health care delivery.
Determine the feasibility of transformational changes in your professional context.
Determine priorities for transformational change in a health care organization.
Target Audience
Clinicians, administrators, and other health care professionals who are interested in removing barriers to instituting best practices around process improvement and care delivery. In this course, you will study leading industry examples of how transformative practices have been instituted.
Meet the Faculty
Ezekiel J. Emanuel, MD, PhD
Ezekiel J. Emanuel is the Diane v.S. Levy and Robert M. Levy University Professor, Vice Provost for Global Initiatives, and Chair of the Department of Medical Ethics and Health Policy at the University of Pennsylvania. He was the founding chair of the Department of Bioethics at the National Institutes of Health until August 2011. He served as a Special Advisor on Health Policy to the Director of the Office of Management and Budget and National Economic Council during the Obama administration. He is also a breast oncologist.
Dr. Emanuel received his MD from Harvard Medical School and his PhD in political philosophy from Harvard University and has published widely on health care reform, research ethics, and end-of-life care. His book Reinventing American Health Care examines the history of the U.S. health care system, the Affordable Care Act, and health care predictions for the future. Its sequel, Prescription for the Future, was released in June 2017. Dr. Emanuel also serves as a Venture Partner at Oak HC/FT in addition to serving as contributor for the New York Times and Fox News.
He began teaching online with a massive open online course on Coursera in 2013 and has since shaped his experiences and research into brief video lectures on medical ethics and health policy issues for continuing education, professional development, and academic learners.
Read More