Course Description
What factors contribute to health disparities? How can we achieve more equitable health and access for all populations in the United States? Explore the answers with Prof. Kevin Ahmaad Jenkins, whose tools and techniques are supplemented by course materials originally designed by Dr. Risa Lavizzo-Mourey, former president and CEO of the Robert Wood Johnson Foundation, and conversations with guests who have direct experience in influencing policy. Through case studies and policy analyses, examine health equity within the context of population health, identify the social factors that influence the health of individuals and populations, and design strategies for improving health equity.
Specific course topics include:
the underlying factors in health care disparities
the interconnected roles of social determinants of health, including transportation, social environment, and housing
diversity and inclusion, and how to engage in initial and continued conversations around health disparities and health equity
cultivating partnerships for health equity
examples of program and policy interventions
Course guests:
Daniel E. Dawes, JD, author, scholar, educator, and leader in the health equity, health reform, and mental health movements, and Executive Director at the Satcher Health Leadership Institute 
at Morehouse School of Medicine
Wendell Pritchett, JD, PhD, civic and academic leader, Interim President of the University of Pennsylvania
Dwayne Proctor, PhD, Senior Adviser to the President at the Robert Wood Johnson Foundation
Donald F. Schwarz, MD, MPH, a nationally recognized leader in public health and children's health care, and Senior Vice President, Program, at the Robert Wood Johnson Foundation
Ashley McEvoy, executive sponsor of the Open & Out LGBTQ employee resource group, and Executive Vice President, Worldwide Chairman, Medical Devices, Johnson & Johnson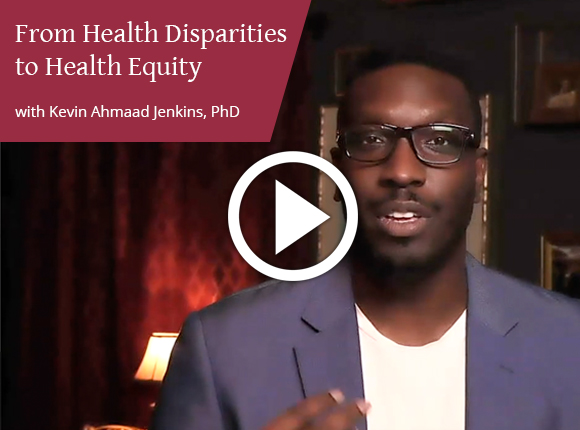 Course Dates: October 18–November 14, 2022
Estimated Hours/Week: 6 to 8
What You Will Learn and Do
This course is designed to help you address questions such as:
What is the link between disparities and equity?
What techniques can improve access to health care?
How do you have initial and continued conversations about health equity?
How do you reduce structural inequities?
What tools can you use to move equity to action within your organization?
Who Takes This Course
Health care leaders and clinicians who want to play a transformative role in their communities. Forge partnerships to influence policy and improve population health.
Organizational leadership committed to improving equity and health outcomes in their professional practice and organization. Engage in initial and ongoing conversations to create measurable initiatives that impact health outcomes.
Community leaders and policy makers interested in achieving more equitable health across populations by addressing social factors. Design strategies for potential policy solutions.
Not ready to enroll? Sign up below to receive a special reminder a week before the course starts.
Meet the Faculty
Kevin Ahmaad Jenkins, PhD
Kevin Ahmaad Jenkins, PhD, holds a visiting scholar appointment in Annenberg School for Communication, and lecturer appointments within the Department of Biobehavioral Health Sciences at the School of Nursing and the Master of Science in Social Policy Program within the School of Social Policy and Practice at Penn. He is an investigator for CHERP, the Center for Health Equity Research and Promotion, and holds appointments as a fellow within the Veterans Health Administration's Office of Health Equity, and the National Academies of Science, Engineering, and Medicine's Roundtable. In 2017, the National Quality Forum named him a 40 Under 40 Leader in Health. He also received the Robert Wood Johnson Foundation's highly competitive New Connections award for early career scholars.
He is the director of the Interpreting Attitudes toward Minorities in Medicine (I AM) Research Group. AcademyHealth selected him as a member for the Paradigm Project learning community which focuses on design-thinking principles and testing approaches to revolutionize health service research.
Read More
Risa Lavizzo-Mourey, MD, MBA
Risa Lavizzo-Mourey, MD, MBA, is the president emerita and former CEO of the Robert Wood Johnson Foundation (RWJF), a position she held for nearly 15 years. She was named the RWJF University Penn Integrates Knowledge (PIK) Professor of Population Health and Health Equity at the University of Pennsylvania, with appointments in the Perelman School of Medicine, the School of Nursing, and the Wharton School, effective January 1, 2018.
During her tenure at RWJF, Dr. Lavizzo-Mourey spearheaded bold health initiatives such as creating healthier, more equitable communities; strengthening the integration of health systems and services; and ensuring every child in the United States has the opportunity to grow up at a healthy weight. This work culminated in the Foundation's vision of building a Culture of Health, enabling everyone in America to live longer, healthier lives.
She worked as deputy administrator for the Agency for Health Care Policy and Research under President George H.W. Bush's administration and continued to direct policy for the subsequent administration, serving as Quality of Care chair for President Bill Clinton's panels on health care. She served on numerous federal advisory committees and she was appointed by President Barack Obama to the President's Council on Fitness, Sports and Nutrition.
Dr. Lavizzo-Mourey earned her medical degree from Harvard Medical School and her MBA from the Wharton School at the University of Pennsylvania.
Read More