Course Description
What are the forces that make health care so expensive and complicated? Guy David, Wharton School faculty member, untangles the economics of the current health care industry, including its structure, delivery, financing, and regulation. Explore the challenges of reducing health care costs and assessing industry advances in discussions with classmates. Better understand the forces that influence health care so you can wisely navigate change.
Specific course topics include:
balancing supply and demand for medical care
factors that influence health insurance costs and models
the role of physicians in resource allocation
competition in health care markets, including between nonprofit and for-profit entities
regulation and health system integrations due to mergers and acquisitions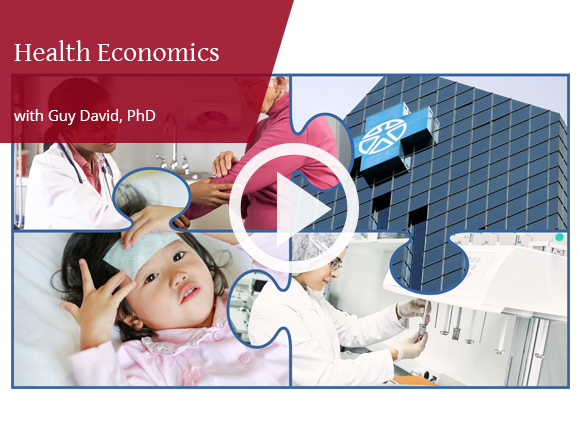 Next Available Course Dates: Next Dates TBD
Estimated Hours/Week: 8
What You Will Learn and Do
This course is designed to help you address questions such as:
How does the economics of health care markets relate to me as a health care professional, and as an individual?
What are the key financial and organizational challenges that health care delivery is currently facing?
How do I use economics frameworks and models to analyze interactions between the players in a health care market?
Who Takes This Course
Health care administrators, clinicians, and researchers with an economics background who want to refresh their knowledge by examining today's health care landscape. Prepare to apply your keen understanding of the forces at play when work decisions turn to cost and quality.
Consultants, payers, managers, researchers, and clinicians aiming to influence conversations about industry efforts to deliver cost-effective, high-quality care. Be able to see the big picture clearly, even while focusing on immediate situations.
Meet the Faculty
Guy David, PhD
Guy David, PhD, is the Gilbert and Shelley Harrison Associate Professor of Health Care Management at The Wharton School, Associate Professor of Medical Ethics and Health Policy at the Perelman School of Medicine, and the Director of the Doctoral Program in Health Care Management and Economics at the University of Pennsylvania. Prof. David is also a Research Associate at the National Bureau of Economic Research, and the Director of Education at the Leonard Davis Institute of Health Economics, University of Pennsylvania. In addition, Prof. David is an associate editor of the American Journal of Health Economics and co-editor-in-chief of the International Journal of Health Economics and Management.
Prof. David is intrigued by the economics of increasingly important segments of the health care industry. By using state-of-the-art theoretical and empirical methods to study how individuals, firms, and regulators interact in health care markets, his research has yielded insights into the complex organization of health care delivery and also into deeper questions of firm behavior, regulatory design, and human capital formation. His research interests include: the dynamics of mixed-ownership competition in health care markets, evaluation of policies towards nonprofit providers, industrial organization and regulation of post-acute care, the economics and organization of emergency medical services, division of labor along the care continuum, patient centered medical care, welfare effects of specialty hospitals and ambulatory surgery centers, and direct-to-consumer advertising and drug safety.
Prof. David received his BA and MA in Economics from Tel Aviv University, and his PhD in Business Economics from the University of Chicago. He teaches undergraduate, MBA, and PhD courses in Health Economics and Health Care Delivery at Wharton, and a graduate course in Health Economics at the Perelman School of Medicine.
Read More