Course Description
What drives health care costs in the United States? How can we quantify the quality of care delivered within a health system? Learn to define value and measure quality, with Lee Fleisher, who brings experience from clinical practice, research, and advisory work to the online classroom. Interviews with executives and experts address topics such as conducting qualitative research, implementation science, improving value in primary care, and pitching and encouraging projects that drive value.
Specific course topics include:
defining and measuring value in health care
examples of driving quality
qualitative and quantitative methods, as well as implementation science
improving value in primary care
Course guests:
Justin Clapp, PhD, MPH, a linguistic/medical anthropologist who uses qualitative methods along with anthropological theory to examine issues in health care communication, medical decision making, and empirical bioethics
Regina Cunningham, PhD, RN, AOCN, FAAN, the Chief Executive Officer of the Hospital of the University of Pennsylvania
Omar Ishrak, PhD, Chairman and CEO, Medtronic
Keith Kasper, MA, the Senior Vice President and Chief Financial Officer for the University of Pennsylvania Health System
Meghan Lane-Fall, MD, MSHP, a physician-scientist committed to the provision of safe, effective patient care
Matthew Press, MD, MSc, who helps lead practice transformation and population health management across a network of 90 primary care practices in the University of Pennsylvania Health System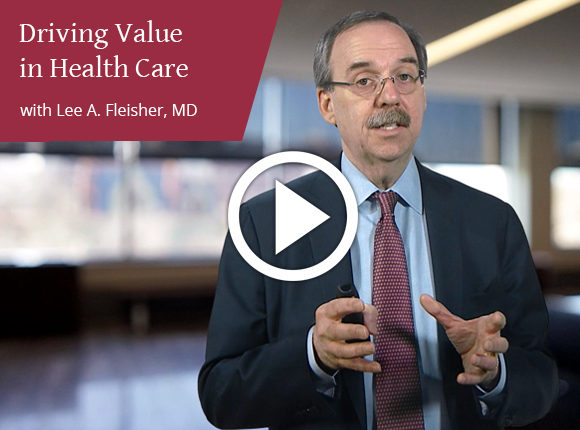 Next Available Course Dates: August 4–31, 2020
Estimated Hours/Week: 8
What You Will Learn and Do
This course is designed to help you address questions such as:
What is the relationship among cost, quality, and value in health care?
How do we measure the quality of care?
How do cost and value relate to improving health, rather than health care?
How do pharmaceutical prices and medical procedure codes influence the way a hospital measures cost—and what new models are being developed?
Who Takes This Course and Why
Clinicians, administrators, and others seeking opportunities to add value to the care their practice delivers. Sharpen your analytical skills to advocate for resources to improve health care value.
Analysts, consultants, and managers for payers, pharmaceutical, biotech, and medical device companies interested in bolstering their understanding of their influence in value and quality. Broaden your perspective and contribute to change.
Not ready to enroll? Sign up below to receive a special reminder a week before the course starts.
Meet the Faculty
Lee A. Fleisher, MD
Lee A. Fleisher, MD, is the Robert D. Dripps Professor and Chair of Anesthesiology and Critical Care and Professor of Medicine at the University of Pennsylvania Perelman School of Medicine, from which he received the 2016 Lindback Award for Distinguished Teaching. He received his medical degree from the State University of New York at Stony Brook, from which he received the Distinguished Alumni Award in 2011. He is a member of the Medical Advisory Panel for the Technology Evaluation Center of the Blue Cross/Blue Shield Association and the Task Force on Practice Guidelines for the American College of Cardiology/American Heart Association. In 2007, he was elected to membership of the National Academy of Medicine (formerly Institute of Medicine) of the National Academy of Sciences.
Dr. Fleisher's research focuses on perioperative cardiovascular risk assessment and reduction, health policy, decision making, and measurement of quality of care and has received numerous federal, industry, and foundation grants related to these subjects. His understanding of the national quality agenda is informed by being the former Chair and current member of the Consensus Standards Advisory Committee, co-chair of the Surgery Standing Committee, and a Member of the Measures Application Partnership Hospital Workgroup of the National Quality Forum.
Read More