Course Description
Can you anticipate the products and services patients and clients will need before they even ask? A shift in health care delivery from occasional interaction to continuous connection has the potential to do just that. Wearable devices, smart pill bottles, digestible sensors, and other disruptive health technologies are all associated with the promise of improving the quality of care while also making efficient use of resources. Through brief lecture videos, Wharton professors Nicolaj Siggelkow and Christian Terwiesch build a framework that you can adapt to create your own strategy for connecting with patients and clients through technology.
Specific course topics include:
the trade-off between customer willingness-to-pay and efficiency
connected customer experiences
principles for revenue models
disruptive innovation and digitization
This course develops content presented in the new book Connected Strategy: Building Continuous Customer Relationships for Competitive Advantage by Prof. Siggelkow and Terwiesch.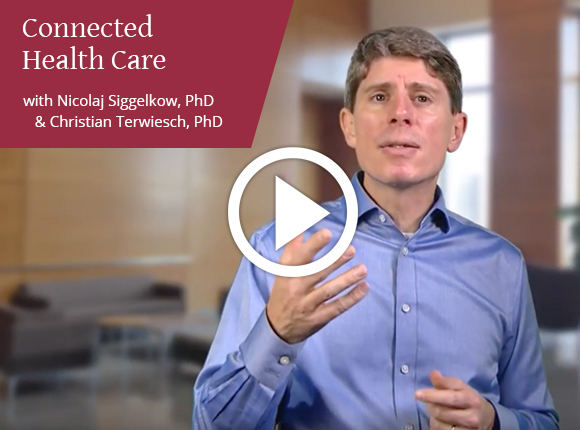 Course Dates: Next Dates TBD
Estimated Hours/Week: 8
What You Will Learn and Do
This course is designed to help you address questions such as:
What existing technologies provide connected patient experiences and relationships?
What circumstances lead to the development of connected strategies?
How can we create revenue models for connected strategies?
What are the potential negative effects of connected strategies?
What factors lead to industries being disrupted?
Who Takes This Course
Entrepreneurs and innovative thinkers interested in transforming the way health care organizations connect with patients in order to improve the way health care is delivered. Bring an informed perspective to conversations about digital disruption.
Health care leaders and clinicians who want to explore the potential of technology to shift health care from episodic, responsive interactions to proactive connection. Contribute your own model after studying successful cases from other industries.
Meet the Faculty
Christian Terwiesch, PhD
Christian Terwiesch is the Andrew M. Heller Professor at the Wharton School of the University of Pennsylvania. He is a Professor in Wharton's Operations and Information and Decisions department, co-director of Penn's Mack Institute of Innovation Management, and also holds a faculty appointment In Penn's Perelman School of Medicine. His research on Operations Management and on Innovation Management appears in many of the leading academic journals ranging from Management Science to The New England Journal of Medicine.
Prof. Terwiesch is the co-author of Matching Supply with Demand, a widely used textbook in Operations Management that is now in its third edition. Based on this book, Prof. Terwiesch launched one of the first Massive Open Online Courses (MOOC) in Business on Coursera. By now, 100,000s of students have participated in this course, most of them working professionals from around the world.
Having faced various medical challenges in his own life, Prof. Terwiesch became interested in applying the science of operations to health care. He has been involved in many improvement projects related to patient flow, new delivery models of care, and improving the patient experience. He also is the co-founder of the Panorama Patient Network, a novel platform for educating patients about various medical conditions.
Read More
Nicolaj Siggelkow, PhD
Nicolaj Siggelkow is the David M. Knott Professor of Management at the Wharton School, University of Pennsylvania and the former Department Chair of Wharton's Management Department. He studied Economics at Stanford University and received a PhD in Business Economics from Harvard University. In 2013, Nicolaj was elected as a Fellow of the Strategic Management Society.
He has been the recipient of more than 30 MBA and Undergraduate Excellence in Teaching Awards, including the Lindback Foundation Distinguished Teaching Award, the highest teaching award of the University of Pennsylvania, and the Helen Kardon Moss Anvil Teaching Award, the highest teaching award of Wharton.
His current research is on Connected Strategies, which is the subject and title of his book with Christian Terwiesch. Nicolaj has been involved in many executive education programs for companies across many industries, including pharma, consumer and industrial products, and financial services. He is also the co-host of the weekly Sirius Radio show "Mastering Innovation."
Read More