Course Description
How did we end up with our current American health care system? This course provides historical context and recent insights through brief lecture and interview videos by Zeke Emanuel, leading policymaker and influential advisor. Map out what changes to health care policy could mean to your work by exploring these lessons through discussions with other professionals. Apply your new knowledge to a timely example related to a Medicare for All legislative effort.
Specific course topics include:
The structure and economics of the various components of the American health care system
Health care reform efforts, including the Affordable Care Act--discussed in interviews with David Blumenthal (Commonwealth Fund), Sarah Kliff (New York Times), and John Podesta (former White House Chief of Staff)
Alternative payment models--including bundled payments, with Amol Navathe, MD, PhD
Current efforts to extend access, improve quality, and lower costs.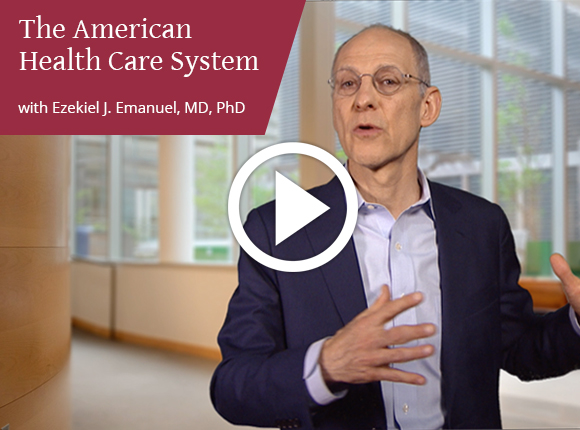 Available Course Dates: Next Dates TBD
Estimated Hours/Week: 8
What You Will Learn and Do
This course is designed to help you address questions such as:
How do historical milestones within the American health care system inform federal health policy—and, in turn, your work—today?
How do the major components of the American health care system fit together, and how do those interactions impact your work?
How do we advocate for increasing access, improving quality, and lowering cost?
What do current events mean for navigating health care today and preparing for the future?
Who Takes This Course
People who work within health care—such as clinicians, researchers, executives, and managers—and want to better understand the connection between policy and health care delivery. Apply your new knowledge to help patients, clients, and organizations navigate the changing, challenging health care landscape.
Professionals who are new to health care—such as entrepreneurs, consultants, and lawyers—and need to understand the national policy context. Bring an informed perspective to your work.
Meet the Faculty
Ezekiel J. Emanuel, MD, PhD
Ezekiel J. Emanuel is the Diane v.S. Levy and Robert M. Levy University Professor, Vice Provost for Global Initiatives, and Chair of the Department of Medical Ethics and Health Policy at the University of Pennsylvania. He was the founding chair of the Department of Bioethics at the National Institutes of Health until August 2011. He served as a Special Advisor on Health Policy to the Director of the Office of Management and Budget and National Economic Council during the Obama administration. He is also a breast oncologist.
Dr. Emanuel received his MD from Harvard Medical School and his PhD in political philosophy from Harvard University and has published widely on health care reform, research ethics, and end-of-life care. His book Reinventing American Health Care examines the history of the U.S. health care system, the Affordable Care Act, and health care predictions for the future. Its sequel, Prescription for the Future, was released in June 2017. Dr. Emanuel also serves as a Venture Partner at Oak HC/FT in addition to serving as contributor for the New York Times and Fox News.
He began teaching online with a massive open online course on Coursera in 2013 and has since shaped his experiences and research into brief video lectures on medical ethics and health policy issues for continuing education, professional development, and academic learners.
Read More