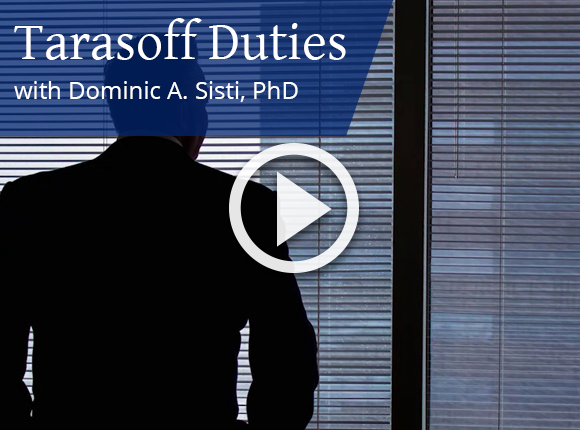 Release Date: May 8, 2017
Expiration Date: May 8, 2020
Amount of CME credit: 1.0 AMA PRA Category 1 Credit™
Amount of Nursing Contact Hours: 1.0 Contact Hour
Estimated Length of Time for Completion: approximately 1 hour
Program Overview
This course offers an overview of the legal and ethical issues pertaining to a therapist's duty to warn and protect in cases where a patient may commit violence. It begins with a discussion of the 1968 case of Tatiana Tarasoff, which established legal precedent for a duty to warn. Then, using illustrative examples and interview material, it surveys how different states implement the duty to warn and protect, provides a framework for determining when and how to intervene with a potentially violent patient, and offers ethical guidance for balancing confidentiality with the safety of patients' potential victims.
Target Audience
This continuing education activity has been designed for investigators, research team members, physicians, nurses, social workers, psychologists, therapists, and other healthcare professionals who have an interest in the legal and ethical issues pertaining to a therapist's duty to warn and protect in cases where a patient may commit violence.
By the end of this course, participants should be able to do the following:
Describe the facts of the Tarasoff case
Explain the ethical foundations of the duty to maintain confidentiality and the duty to warn and protect
Distinguish among laws and policies pertaining the duty to warn and protect in different states
Make use of the framework of the Appelbaum method in cases where Tarasoff duties may apply
In this activity, learners will engage with the content by moving through a series of brief video lectures with links to related readings, downloadable resources, and quizzes.
The Structure of the Course
This course is divided into six lectures:
 Introduction to Tarasoff and the Duty to Warn (6:41)
Legal Obligations by State (6:58)
The Appelbaum Model (3:00)
The Appelbaum Model, Case Studies (4:20)
A Conversation with Paul S. Appelbaum (13:45)
Confidentiality (3:35)
Each lecture includes a list of suggested readings that provide more detail about what was discussed. Links to external readings will lead you to an abstract or, if available, the full article.
Successful completion of this educational activity and receipt of certificate of credit includes achieving a minimum score of 80% on the post-test.
Instructions
To receive your Certificate of Credit for participating in this CME/CE-certified educational curriculum, we ask that you follow these steps:
Read all the introductory material including faculty and disclosure information
Complete the pre-activity survey
Review the video lectures, references and resources

VIDEO TIPS
To view English captioning, select the CC button on the video player.
To watch at a faster or slower playback speed, select the "Click to view directly on the web" link and select the appropriate link.
Android and iOS devices may display closed captions inconsistently. For the best mobile experience with captions, we recommend logging in using Chrome or Firefox mobile, and viewing videos through the embedded Canvas player rather than directly on the web.

After you have completed the above steps, proceed to completion of the post-activity survey. A passing score of 80% is required.
Evaluate the course using the brief survey on the last page. You must complete the post activity evaluation to receive your certificate. The certificate will automatically generate after completing the survey.
Meet the Faculty
Dominic A. Sisti, PhD
Dominic Sisti, PhD, is director of the Scattergood Program for the Applied Ethics of Behavioral Health Care and assistant professor in the Department of Medical Ethics & Health Policy at the University of Pennsylvania. He holds secondary appointments in the Department of Psychiatry, where he directs the ethics curriculum in the residency program, and the Department of Philosophy.
Dr. Sisti's research examines the ethics of mental health care services and policies, including long-term psychiatric care for individuals with serious mental illness and ethical challenges in correctional mental health care. He also studies how mental disorders are defined and categorized with a focus on personality disorders. His writings have appeared in peer-reviewed journals such as JAMA, Psychiatric Services, and the Journal of Medical Ethics, and in popular media outlets such as the New York Times, the Philadelphia Inquirer, and Slate. He is editor of three books: Health, Disease, and Illness: Concepts in Medicine (with Arthur Caplan & James McCartney, Georgetown University Press, 2004), The Case of Terri Schiavo: Ethics at the End of Life (with Arthur Caplan and James McCartney, Prometheus Books, 2006), and Applied Ethics in Mental Healthcare (with Arthur Caplan and Hila Rimon-Greenspan, The MIT Press, 2013).
Dr. Sisti teaches a graduate seminar on ethics in behavioral health care and has organized the ethics track for the American Psychiatric Association's Annual Meeting. He received his bachelor's degree in Biology from Villanova University, a Master of Bioethics from the University of Pennsylvania, and his doctorate in philosophy from Michigan State University. Dr. Sisti was an Edmund Pellegrino Fellow at the Center for Clinical Bioethics at Georgetown University. His research has been funded by the Thomas Scattergood Behavioral Health Foundation, the Greenwall Foundation, the Leonard Davis Institute, and the Dana Foundation.
Read More
Accreditation and Designation of Credit
Physicians
The Perelman School of Medicine at the University of Pennsylvania is accredited by the Accreditation Council for Continuing Medical Education (ACCME) to provide continuing medical education for physicians.
The Perelman School of Medicine at the University of Pennsylvania designates this enduring material for a maximum of 1.0 AMA PRA Category 1 Credit™. Physicians should claim only the credit commensurate with the extent of their participation in the activity.
This activity has been designated by the Perelman School of Medicine at the University of Pennsylvania for 1.0 hour of Patient Safety/Risk Management.
Nurses
Penn Medicine Nursing is an approved provider of continuing nursing education by the Pennsylvania State Nurses Association, an accredited approver by the American Nurses Credentialing Center's Commission on Accreditation.  Approval # 124-3-H-15.
Penn Medicine Nursing awards this activity 1.0 contact hour.
Physician Assistants
AAPA accepts certificates of participation for educational activities certified for AMA PRA Category 1 Credit™ from organizations accredited by ACCME or a recognized state medical society. PAs may receive a maximum of 1.0 Category 1 credit for completing this activity.
Disclosures
The following planning committee member has reported the following relevant financial relationships with commercial interests related to the content of this educational activity:
Ezekiel J. Emanuel, MD, PhD: Leigh Bureau, Speaker Honorarium; Oak HC/FT, Salary; Nuna, Stock Shareholder
The faculty and planning committee members listed below have disclosed that they have no relevant financial relationships with any commercial interests related to the content of this educational activity:
Autumn Fiester, PhD
Dominic A. Sisti, PhD
Connie Ulrich, PhD, MSN
Amy Ashbridge, MBA
Adam Zolkover, MA
Laura C. Hart, MFA
Mila Kostic, CHCP, FACEHP
Michael Schoen, PhD
Rodman Campbell, CHCP
Patricia Smith, DNP, RN, BC
The faculty reported that there will be no mention of investigational and/or off-label use of products in this presentation.
Acknowledgment of Commercial Support
There was no commercial support used in the development of this educational activity.
If you have questions, please contact Caitlin O'Neill, Program Manager for Online Educational Initiatives, at 215-746-3971 or MEHPonline@pennmedicine.upenn.edu.
For CME/CNE related questions regarding this activity, contact the Office of CME and IPCE at Penn Medicine at penncme@mail.med.upenn.edu or at 215-898-8005.