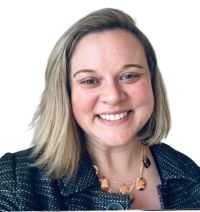 Kate Liebelt is a life sciences and health care strategist and operator, and trusted adviser to the C-suite. She is an innovative builder experienced in leading complex, cross-functional initiatives. Kate has held a variety of roles in both consulting and industry. Currently, Kate serves as Executive Director and chief of staff to the head of R&D at Organon. She was a management consultant and chief of staff to the national leader of the health care practice at Deloitte Consulting, LLP, and worked at PricewaterhouseCoopers, serving diverse clients across the health care ecosystem.  
Within the life sciences industry, Kate has served as chief of staff at AbbVie in the global pharmacovigilance division and held R&D project leadership roles at Takeda Global R&D, Inc., Baxter Healthcare Corp., TAP Pharmaceutical Products, Inc., as well as the Washington University in Saint Louis Office of Technology Management. Kate earned a BA from Washington University in Saint Louis and a Certificate in Health Care Innovation from the University of Pennsylvania, Medical Ethics and Health Policy Online Program.  
She is a contributing author to two bestselling textbooks: Mobile Medicine, Overcoming People, Culture, and Governance (Taylor & Francis 2021) and Advanced Health Technology (Taylor & Francis 2022). She is a champion for diversity, equity and inclusion, and volunteers with a variety of civic and industry organizations aligned with her professional and personal values. Kate is based in Chicago, Illinois.