Degree Requirements
Master of Health Care Innovation courses are rigorous and intensive; students typically spend 12–14 hours per week on coursework. Students are required to complete 11 course units (CU) to earn the degree. At Penn, 1 course unit is usually converted to a four-semester-hour course. For the Master of Health Care Innovation, a 1.0 CU course is compressed to 6 intensive weeks. Students typically take one course at a time, with one week off between courses to offer a brief pause in the program's rigorous pace. Extended breaks occur over the winter holidays and summer. The program is designed to be completed in 20 months. A flexible 3-year option is available for students who need to spread out the workload and financial commitment over more time.
The curriculum consists of:
In addition, students are required to attend the MHCI Seminar (noncredit) each August during the program. In February of their final year of the program, students will attend Innovation Weekend in person on Penn's campus in Philadelphia.
Program faculty and opportunities draw upon expertise from across Penn, including the Perelman School of Medicine, the Wharton School, Penn Law, the School of Nursing, the Stuart Weitzman School of Design, the Leonard Davis Institute of Health Economics, and the Penn Medicine Center for Health Care Innovation.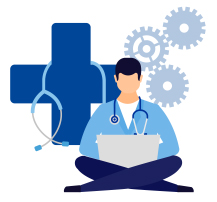 The Curriculum
Core Courses
KEY: Course ~ Instructor(s) (School: Perelman School of Medicine, the Wharton School, Penn Law, or School of Nursing)
American Health Care System ~ Ezekiel J. Emanuel, MD, PhD (Perelman School of Medicine)
Behavioral Economics and Decision Making ~ Kevin Volpp, MD, PhD (PSOM)
Evaluating Health Policy and Programs ~ Amol S. Navathe, MD, PhD (PSOM)
Health Care Operations ~ Christian Terwiesch, PhD (Wharton)
Health Economics ~ Guy David, PhD (Wharton)
Leading Change in Health Care ~ Ezekiel J. Emanuel, MD, PhD (PSOM) with additional innovation experts
Translating Ideas into Outcomes ~ David Asch, MD, MBA and Roy Rosin, MBA (PSOM)
Lab courses
Applying Behavioral Economics
Applying Operations Management
Building a Case for Transformation
Pitching Innovation
ELECTIVES
Related topics are paired in online electives, with 3 weeks spent on each topic. Each fall the cohort selects their preferred electives, to inform which will be offered the following summer. Course offerings and faculty are subject to change.
Offerings for Summer 2021:
Strategies for Health Insurance and Benefit Design ~ Dr. Asch and Dr. Volpp (PSOM) + Health Law Fundamentals ~  Theodore Ruger, JD (Penn Law)
Connected Health Care ~ Christian Terwiesch, PhD, and Nicolaj Siggelkow, PhD (Wharton)
Driving Value in Health Care ~ Lee Fleisher, MD (PSOM) + Ethics in Health Care Innovation and Research ~ Steven Joffe, MD, MPH and Emily A. Largent, JD, PhD, RN (PSOM) 
From Health Disparities to Health Equity: Policy Implications ~ Kevin Ahmaad Jenkins, PhD (Annenberg) + Health Care Leadership in an Era of Patient Empowerment ~ Michael Useem, PhD (Wharton)
Guest Speakers
Courses include special lectures, presentations, and interviews with speakers from outside the program faculty to expose students to expert perspectives from across the University and beyond, from a multitude of industries.
The Schedule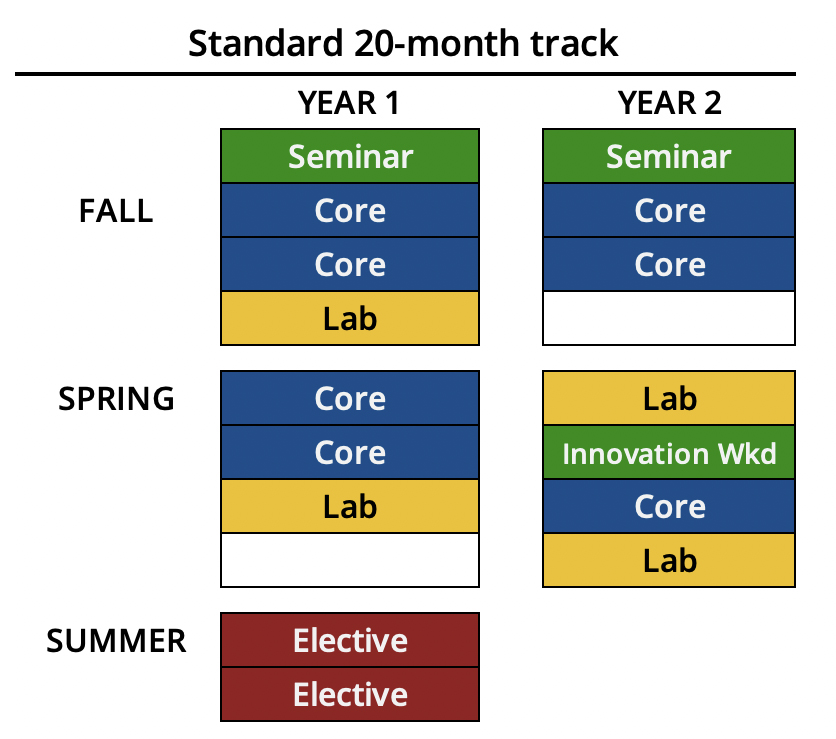 Students who choose the extended 3-year track must meet the same degree requirements as the 20-month program. The first year's coursework is distributed across 2 years, and the final year's schedule remains the same. If you choose this program option, an advisor will help you identify the best schedule.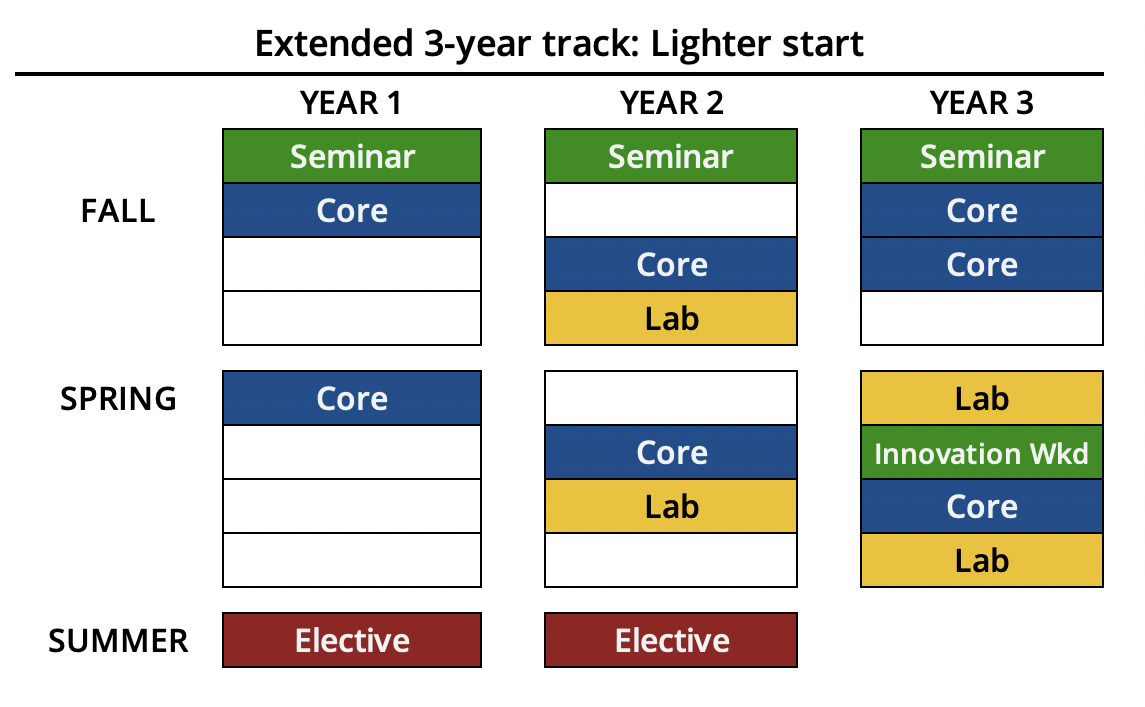 The Online Course Structure
When you take an online course in the Master of Health Care Innovation, you engage with concepts, practices, and ideas in 3 ways:
Digest Content and Media—Brief, high-quality lecture videos, interviews, readings, and other resources are self-paced, organized into modules that typically coincide with course weeks. Many courses include weekly quizzes to reinforce key concepts and help you determine what you need to review.
Interact—Synchronous and asynchronous interactions with colleagues, faculty members, and TAs help you practice identifying opportunities for innovation, articulating a case, supporting your arguments with evidence, and networking with colleagues.
Apply Your Learning—Projects and presentations may ask you, for example, to identify opportunities and obstacles, articulate a case, and support that case with evidence.
View the Spring 2021 Virtual Information Session video for a glimpse into a course, additional details about the schedule, and listen to current students reflecting on their experiences. Sign up for access.
If you want to sharpen your skills with a lighter workload and in less time, consider the Professional Development Certificate in Health Care Innovation.
Technology Requirements
The MHCI program is designed for participation from either a desktop or laptop computer (PC or Mac), with content also accessible on a mobile device. A headset with microphone is provided to students, for use during synchronous video sessions.
Computer requirements and supported browser information for Canvas, the learning management system for the Master of Health Care Innovation, may be found at the Canvas Help Center. Lecture videos are delivered over Panopto, which lists viewing requirements on its website.
If you have any questions about technology requirements, please contact the Online Education Center help desk at psom-MEHPhelp@pennmedicine.upenn.edu.
MHCI Program COVID-19 Response
During the pandemic, the MHCI team remained responsive to anticipated needs and changing realities, making course adjustments and accommodations for students' needs. Read on for more about the COVID-19 response.